Double-drum walk-behind roller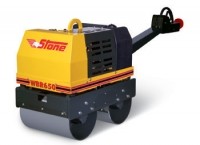 Company info
The WBR650 Walk-behind Roller features a 25.5-inch drum width and hydrostatic transmission for optimum performance on bridge abutments, larger sidewalks, parking lots and road shoulders. It is ideal for confined area compaction, in trenches and general asphalt patching and repair.

The WBR650 is powered by a 10-hp Lombardini diesel engine and includes a back-up recoil start. It has a compaction force of 2925 pounds with a maximum travel speed of 2.5 miles per hour. The roller has a 10-inch curb clearance and one-inch side clearance on both sides for optimum performance tight to curbs and other obstructions. Centrally located eccentrics evenly distribute the compaction forces over the drums. A low centre of gravity delivers superb stability and maximum maneuverability. Both drums drive with a Positrac-tion System for maximum traction on inclines. The ergonomically designed controls for speed, direction and vibration are conveniently located and easy for the operator to activate. Maximum access for servicing is provided by easily removed covers. The hydraulic and water tanks are also easily removed for cleaning and replacement. The top and bottom frames separate for added access. Specially designed drain lines can be pulled away from the machine to allow the tanks to be drained easily with little or no mess.

Standard features include a large capacity water tank for asphalt work, an adjustable handle, bypass valve for without starting the engine, and a reverse stop button for safety to stop the machine moving in reverse.