Dressta's new TD-40E EXTRA crawler dozer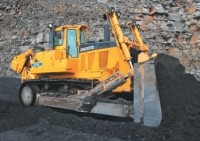 Dressta has introduced the TD-40E EXTRA crawler dozer featuring a quieter, environmentally-friendly, Cummins QSK19 Tier 3 engine. This new model delivers an enhanced drawbar pull resulting from a higher maximum torque of 1,755 lb-ft, up from the 1,650 lb-ft of the previous model. The new engine delivers 515 net horsepower at 2,000 rpm. Engine displacement continues at 1,150 cubic inches. The TD-40E EXTRA has an operating weight of 136,509 pounds and a full-U blade capacity of 29.8 cubic yards. The cooling module has a two-speed fan with a 50 inches diameter blade to handle the cooling characteristics of the new Tier 3 engine. The low speed fan conserves power while providing a quieter operation when working with lighter loads or to deliver an extra boost of power for short periods under heavy load conditions. Also released with the TD-40E EXTRA are a gear range pre-selection system and an automatic downshift function which offers the operator the choice of various automatic operating modes; especially useful in repetitive cyclical operations. Contributing to a comfortable full day of work is the standard six-sided cab, which offers a deluxe interior with superior all-around visibility. The cab is sealed and has a built-in air re-circulation system. It has a sound suppression system and is separated from the engine compartment for a quieter, more comfortable ride. The air-suspension operator's seat swivels 14 degrees to the right for better blade and ripper viewing and enhanced control.

The combination of a three-speed transmission with two-speed (Hi/Lo) steering yields six forward and reverse ground speeds. The TD-40E EXTRA has a single-lever joystick control that combines the functions of three levers into a single joystick. Dressta engineers have combined the hydraulic control system on the TD-40E EXTRA with advanced solid state electronic circuitry in an exclusive electro-hydraulic motion control system. All control functions are activated by moving the joystick or by pushing a control button located on the face of the joystick.
Company info
Related products