Grader has 50-degree turning radius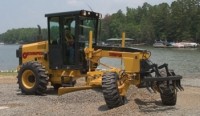 Champion's introduction of the C Series single-axle compact graders was highlighted by a re-engineered front axle that achieves the tightest turning radius in the industry. The C Series front axle allows 50 degrees of steering angle left and right, an improvement of 15 degrees over previous models. With the frame fully articulated, both machines are able to turn 360 degrees within a 17 feet 6 inch circle. The C 60 C is Champion's rear-drive single axle machine, while the C66 C is the All Wheel Drive version.

The new front axle in C Series models also raises the ground clearance capability of the small graders to rival full-size equipment. Now raised six inches higher, the ground clearance of the C Series front axle tops 22 inches. "The obstacles you encounter on a jobsite don't get smaller just because you have a smaller machine," says Bryan Abernathy, Vice President of Sales & Marketing at Champion. "Now compact graders can go where the big graders go." Additional features of the Champion C Series models include a taller moldboard, a strengthened frame articulation design and a wider blade-lift arrangement.