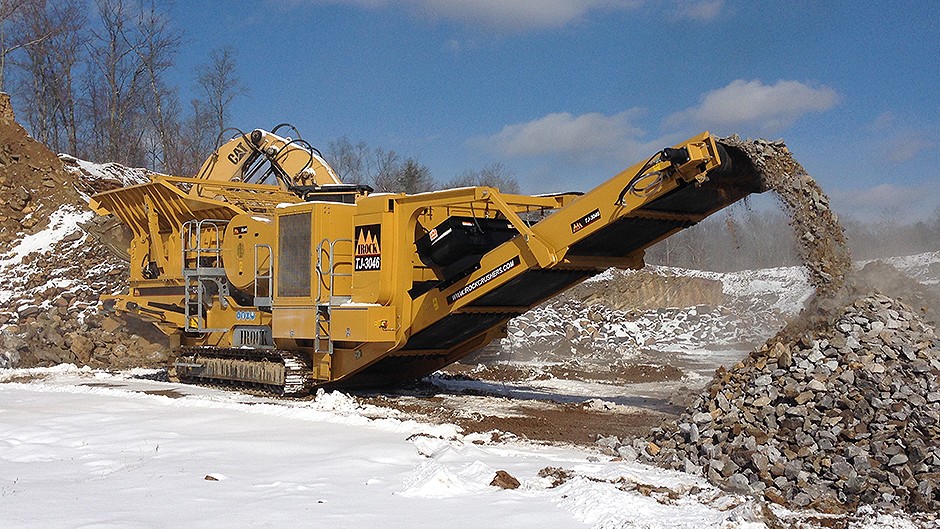 Our TJ-3046 Track Jaw Crusher is a high-performance primary jaw crusher designed for fast setup and superior control over product size. With an output of up to 445 TPH, the unit is ideal for medium-scale operators.
IDEAL INDUSTRIES: Quarrying, demolition, recycling, mining
Features & Benefits
Performance
The high-performance, hydraulically driven jaw operates with an aggressive crushing action. A hydraulic wedge adjustment offers more control over sizing and an optional level sensor monitors the feed rate into the jaw to ensure maximum production.
Discharge conveyor
The 48-inch-wide crusher discharge conveyor can stockpile up to 11 feet, 6 inches and an optional magnet can be fitted for recycle applications. A heavy-duty crusher impact bed and dust suppression system are standard.
Feeder
A 13-foot, 1-inch by 44-inch stepped vibrating grizzly feeder, bypass chute and dirt conveyor come standard on the unit. The sides and rear of the heavy-duty hopper hydraulically fold for easy transportation and rapid setup.
Control system
The electronic crusher control system includes a touch screen display and guarantees easy operation of crusher functions and simplified maintenance.