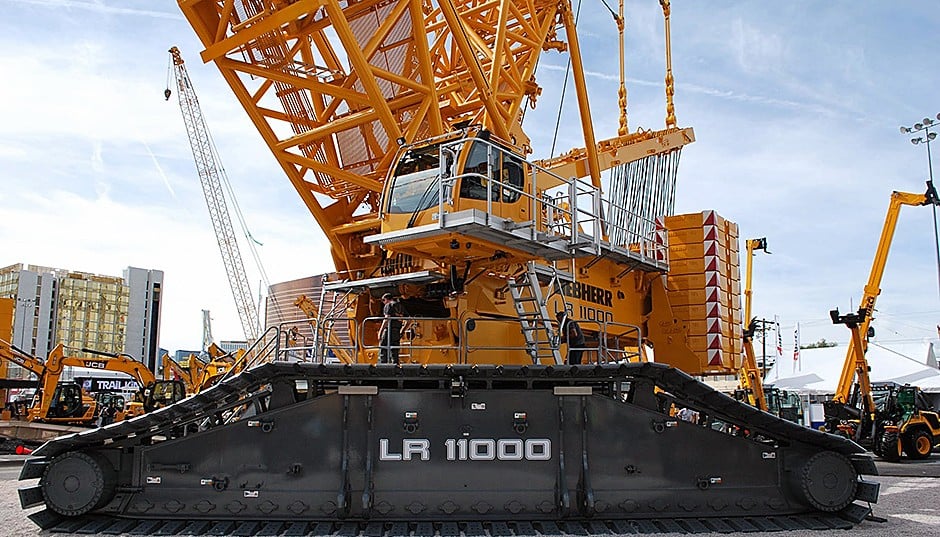 The new crane LR 11000 features very high load capacities and will in future also be available with the PowerBoom parallel boom system. In the design, particular care has been taken with optimized transport dimensions and weights. With a variety of boom versions, including Derrick systems and special wind power equipment, the new Liebherr crawler crane flexibly covers a large range of applications. The LR 11000 is been designed to be so compact that it is ideal for use in constricted areas.
Features & Benefits
Versatile boom systems
The standard components comprising the S main boom and W luffing jib enables the crane to achieve various boom systems, including a strong PowerBoom system with a heavy luffing jib.
Economical transport logistics
The new LR 11000 is designed for a transport width of 11.5 ft and a transport height of 10.5 ft. The crawler carrier and the central crawler section each weight 132.3 kips and are therefore the heaviest transport packages.
Ballasts
The ballasts take the form of 22050 lbs Liebherr standard cast plates. This means that they can be used universally on all Liebherr crawler crane models.
Compact basic crane, powerful drive unit
The LR 11000 has been designed so that it can be used in constricted areas, for example in refineries. The basic crane is extremely compact and has a track width of just 30 ft. The suspended ballast can be moved to a minimum of 39 ft to the basic machine.
Engine
A Liebherr V8 diesel engine which develops 500 kW / 680 HP is used to power the LR 11000. The hoist ropes are 105 ft in diameter and the hoist winches perform a line pull of 50.7 kips.