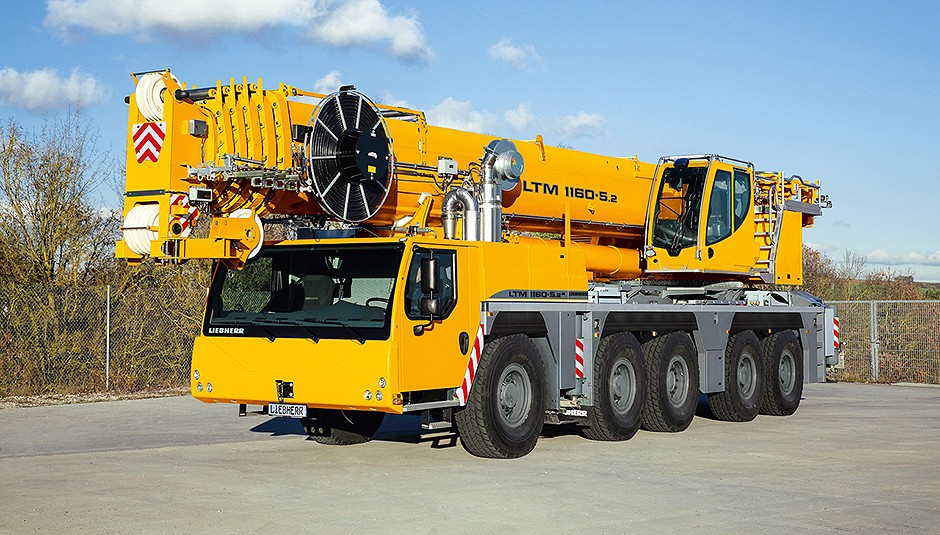 The new 190 US-tons mobile crane LTM 1160-5.2 from Liebherr is the successor to the LTM 1160-5.1. The load capacity has been increased by around 20-25% whilst the telescopic boom has remained at the same length of 203 ft. The vehicle width has been reduced from 9'10'' to 9' which means that not only it is easier to drive on public roads but also considerably better on constricted sites. The superstructure of the new LTM 1160-5.2 is powered by the engine in the crane chassis using a mechanical shaft. This makes the new 5-axle vehicle the second crane model to feature the innovative single-engine drive concept which Liebherr first presented at the Bauma 2013 for the LTM 1300-6.2.
Features & Benefits
Powerful boom system
The six-part 203 ft long telescopic boom on the new LTM 1160-5.2 is telescoping in and out easily via the tried and tested rapid action TELEMATIK telescoping system.
ECOmode
An add-on program has been developed for the new crane drive concept with just one engine and a mechanical shaft to allow the machine to be run with lower fuel consumption.
Time-tested, powerful drive train
A six-cylinder Liebherr diesel engine which develops 544 h.p. at 1900 rpm and torque of 2,516 Nm at 1350 rpm provides the LTM 1160-5.2 with all the power it needs.
New single-engine concept
The LTM 1160-5.2 features the new Liebherr concept for powering the superstructure. Instead of the twin-engine concept normally used on cranes in this class the new Liebherr crane is powered by a single engine with a mechanical shaft.