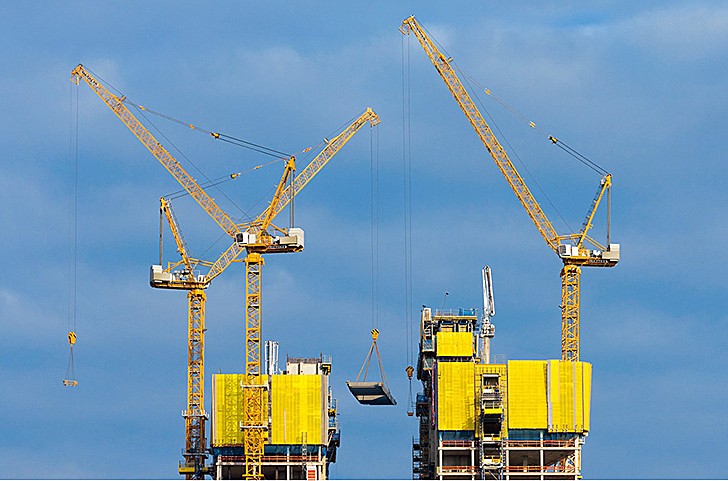 The 542 HC-L 18/36 Litronic luffing jib crane has a maximum load capacity of 79,366 lb. The luffing gear has been improved to suit the lifting capacity so that shorter adjusting times are possible. It is available in a 12/24-tonne or 18/36-tonne version.
Features & Benefits
Level luffing
Using the programmable logic controller, the load can be moved at the touch of a button in the same way as with a trolley jib top-slewing crane in a level luffing movement. This is particularly useful for erection and concreting work.
MICROMOVE
Another component of the Litronic concept is the tried and trusted MICROMOVE. It enables the load to be positioned with great precision without the hoist gear brake engaging, delivering a further benefit for safe and efficient crane operations.
Transport and erection
The erection weights of the 542 HC-L can be reduced easily by being split into simple packages. This means that small mobile cranes can be used for the erection process and the Liebherr 200 DR 5/10 derrick crane for dismantling.
Fast adjustment due to simple re-reeving
The simple re-reeving of the load hook from 1 to 2-line operation means that the 542 HC-L can be adjusted quickly to different loads with excellent hoist speeds.
Low space requirement
A reduction of approx. 8'-2'' was achieved for the common 164'-0'' radius – from 65'-3'' to 57'-1''. Together with the small slewing radius of 24'-6'', this means that the crane can operate freely in very constricted areas.
Efficient load handling
In addition to the drastically increased hoist capacity, the adjustment of the luffing gear has also been improved. Overall this enables the crane to reach operating speeds which are extremely economical even when handling large loads.
Safety-focused climbing
Sensors on the guide section report the current climbing status to the Litronic crane controller. Specially adjusted climbing curves based on the recorded data can be provided using the Litronic controller to ensure maximum safety.