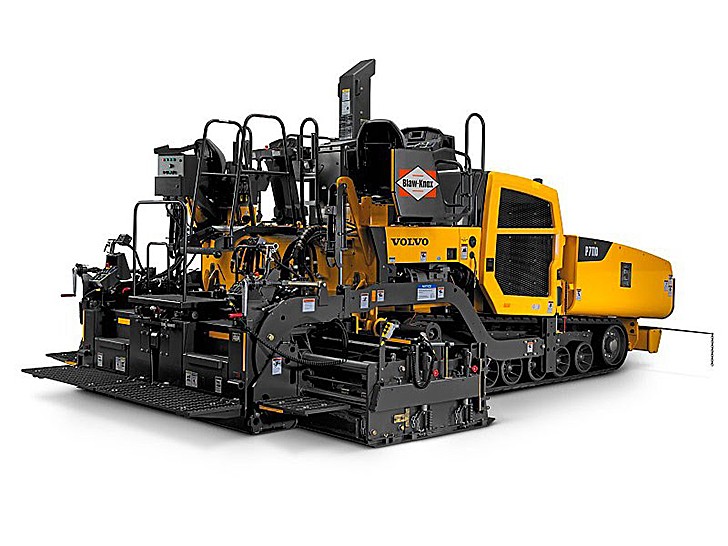 The Volvo P7110 asphalt paver is born from the Blaw-Knox legacy and combines proven technology with innovative engineering to deliver powerful performance in all paving applications – no matter how challenging. High tractive power provides excellent traction, allowing you to climb hills and pave curves with ease. Our industry-leading screeds ensure consistently smooth, high quality results.
Features & Benefits
Visibility
Benefit from supreme visibility of the entire paving process. Volvo pavers provide unobstructed views of material flow from the delivery vehicle, to the auger channel and end gate.
Control consoles
The two consoles, located on the left and right side, rotate and tilt to align with the adjustable seats for comfort, enhanced visibility and productive operation.
Range of screeds
For increased versatility, Volvo offers a range of front and rear mounted screeds designed to give you the best paving quality, uniformity and smoothness.
Tier 4i engine
Powerful, fuel efficient Volvo D8 240 horsepower (179 kW) engine features an active-type diesel particulate filter (DPF) to lower emissions. The regeneration process does not interrupt productivity, operation or performance..
Operator platform
Volvo's unique, low profile, single level platform has been designed for ease of operator movement and safety. The design allows for temporary storage of belongings and tools.
Hydraulic tunnels
With a push of a button, two stage tunnels can be hydraulically extended to confine and control material – ensuring an even head of material in front of the screed for the best possible mat quality.
Four sensor system
Four standard ultrasonic sensors automatically regulate the proper delivery and flow of material to match the paver's speed and ensure smooth and consistent paving.
Hopper
Large hopper capacity for continuous paving. Durable, rolled hopper wings prevent material build-up to improve clean-up.
Specs
Key Specifications

| | |
| --- | --- |
| Maximum paving width | 26 ft (7,92 m) |
| Paving speed | 246 ft/min (75 m/min) |
| SAE J1995 gross | 235 hp (175 kW) |