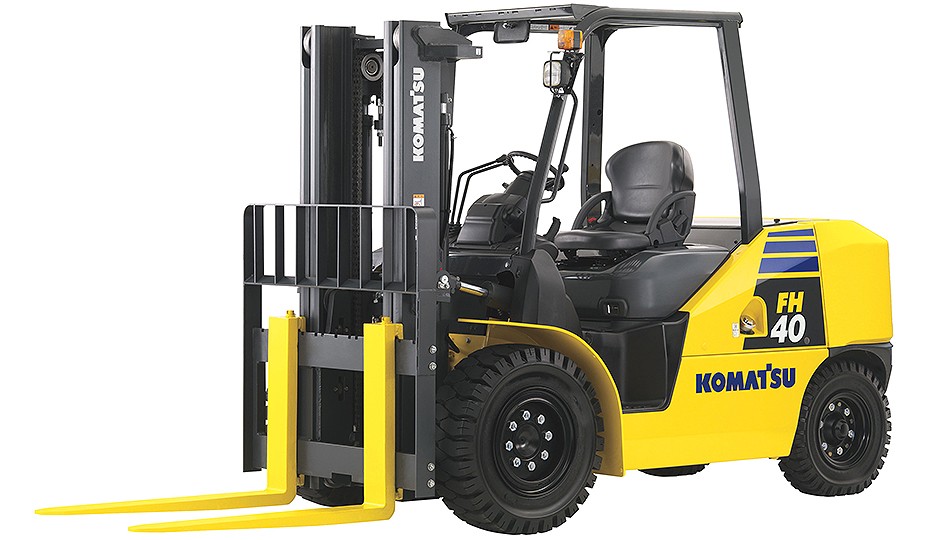 This new diesel hydrostatic drive family achieves its durability and low costs of ownership from its rugged designs and field proven components. With Komatsu's hydrostatic drive system, standard wet disc brakes, and Closed-center Load Sensing hydraulic system (CLSS), the FH series achieves reduced costs of operation and reduced maintenance costs. The FH series lowers your cost of operation in a variety of demanding, high-cycle operations. Also equipped with KOMTRAX—Komatsu's exclusive information data management system.
Features & Benefits
Heavy Duty Sealed Wet Multi Disc Brakes
The sealed system provides protection from dust, dirt and debris, thus providing higher reliability, fade and water resistance. Unlike a drum brake system, there is no need to replace the brake shoes resulting in lower maintenance costs and downtime.
Electronically Controlled HST
n the HST system, the diesel powered engine drives the pump and oil supplied from the pump then rotates the motor that drives the forklift. The power losses over the entire engine speed range are minimal.
CLSS with Variable Displacement Pump
The load sensing capability automatically senses loading and the variable displacement pump then supplies only the amount of hydraulic fluid needed to do the job.
KOMTRAX
KOMTRAX tells you where your machines are, what they are doing, and how they are doing it providing total fleet management capabilities for improved fleet utilization, reduced downtime and lower owning and operating costs.
Low Exhaust Emissions Engine
Komatsu's turbo-charged 4-cycle diesel engine is Interim Tier 4 and EU Stage A emissions certified, without sacrificing power or productivity. The engine is connected to the drive system hydraulically to transmit power to the drive system.
Controllability and Operation
FH series requires less inching pedal use because the HST forklift can adjust speed through use of the accelerator pedal. Also with excellent controllability of the HST, the operator has better control when maneuvering in tight quarters or load handling.
Reduced Roll Back
With HST drive, the oil flow to the hydraulic motor is stopped when the accelerator pedal is released, so even if the forklift is stopped on a ramp and the operator releases the brake pedal, downhill creep is reduced.