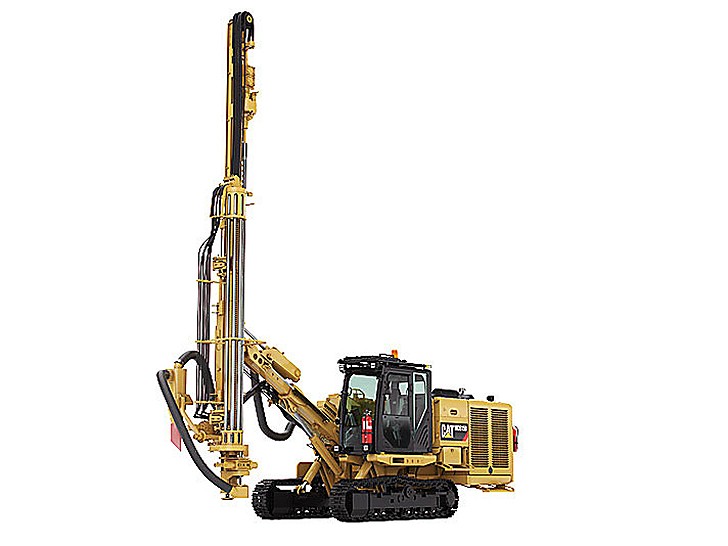 Maximum productivity is the advantage with the Cat MD5150C Track Drill. Fast cycle times and a low operating cost are achieved through our customer-inspired designs such as top of class power, air, fast set-ups and a reliable rock drill. Equipment life cycle is long thanks to our durable Cat components and maintenance friendly designs.
Features & Benefits
CAROUSEL ROD CHANGER
To improve your overall productivity, our new carousel rod changer significantly reduces rod change time.
ROCK DRILLS
A combination of robust design and easy maintenance means more hours of reliable, low-cost operation.
NEW AUTOMATED ROCK DRILL LUBE SYSTEM
Peak performance is sustained when your rock drill is kept lubricated, cool, and automatically maintained with our new Auto Rock Drill Lube System.
POWER GROUP
The MD5150C power group delivers fast cycle times and maximum efficiency due to the combination of large air capacity, engine horsepower and an over sized cooler to keep all systems operating at optimal temperatures.
ENGINE
MD5150C powers through hard rock with its' Cat C11 Tier 3 engine at 287 kW (385 hp) @ 1,800 rpm. The six (6) cylinder engine is electronically controlled, turbocharged, and water-cooled.
COMPRESSOR
MD5150C has the high capacity air compressor, allowing for maximum flushing power.
CAB SAFETY
Features include: High visibility with 3.8 m2 (41.76 ft2) tinted safety glass windows; Mirrors and high-resolution cameras assist in moving the machine; Tram control by lever and foot pedal.
FRAME
You can rely on a maintenance free and long lasting base for your drill because each frame is designed and thoroughly inspected in-house. All weld inspections are certified to CWI or CAWI standards.
Specs
Key Specifications

| | |
| --- | --- |
| Hole Diameter | Up to 152 mm (6 in) |
| Hole Depth | 31 m (102.5 ft) - Maximum Depth |
| Air Compressor | 15.1 m3/min (534 cfm) |
| Engine: Cat C11 Tier 3 | 287 kW (385 hp) @ 1,800 rpm |