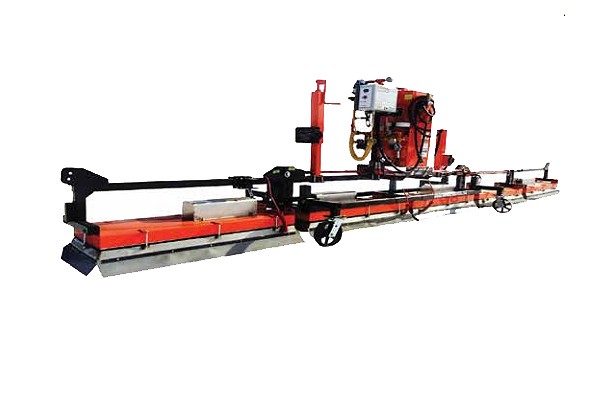 The HDE paver attached joint heater uses 100% infrared heat to safely preheat the cold joint just prior to placing of the hot lane. At standard operating pressure of 35 PSI, the heater has an input of 400,000 BTU, capable of raising the surface temperature of the joint to a satisfactory range of 100°C (212°F) to 120°C (250°F). Paving speeds of up to 35' per minute can be achieved under ideal conditions.
The JMH 500PA joint heater is used in tighter space conditions such as city or rural road paving. The HDE paver attachment is available in a 12' - 300,000 BTU, 16'-400,000 BTU and 20'-500,000 BTU unit. With two attachment points the JMH-PA can attach to any brand of paver within 10 minutes, as all electrical and propane connections are quick connect. Each unit is pre-wired for electronic ignition and both manual and automatic modes. When operating on automatic, the heater will automatically switch from operating pressure (35 psi) to low pressure (5 - 10 psi). If there is a delay in the paving operation and the paver has to stop, the unit will switch to low and heat the joint slowly without burning it. When the paving operation commences the heat will switch to operating pressure.
Features & Benefits
HDE's replaceable ceramic car tridge allows for easey replacement of the heating element. Typical cartridge live is an average of 1,500 hours and can be changed in less than 45 minutes.
HDE's heaters are capable of running at pressures from 5 PSI up to 40PSI.
The C.G.A. approved vaporizer converts the liquid propane to vapor gas. Unlike conventional vapour heating systems, a liquid system will not freeze up and can operate on one propane tank at a time at temperatures of -20°C.
Two Convenient attachment points allow for easy hookup of the joint heater onto any paver. Standard Quick Attached electrical and propane hookup are included.
The paver supports the weight of the joint heater at two points, after the wheels are removed the joint heater can be moved along the 2" chrome shaft to the desired paving with.
Specs
Key Specifications

| | |
| --- | --- |
| Input | 500,000 BTU |
| Standard Operating Pressure | 35 PSI |