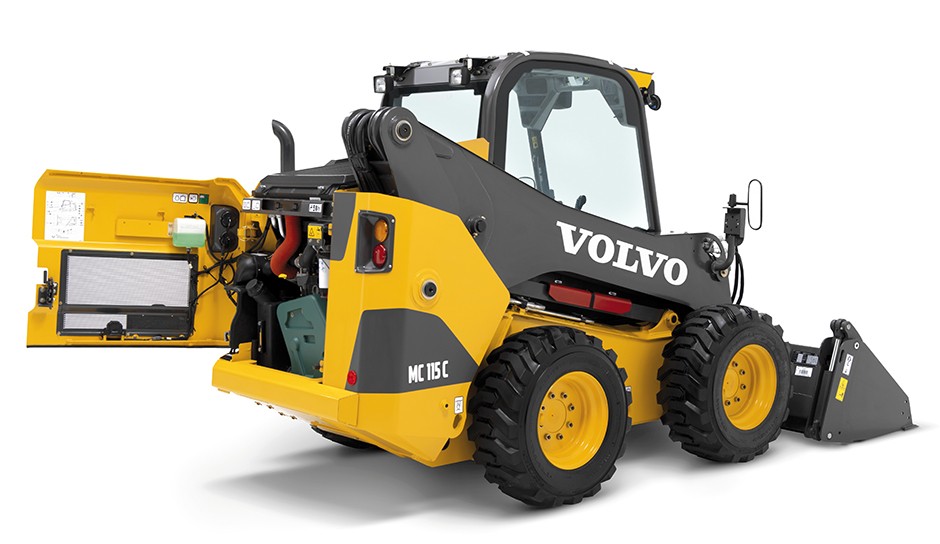 The Volvo MC115C skid steers are the compact loading machines ideal for a wide range of applications. Perfect for landscaping, construction and exterior maintenance, the Volvo line, along with a wide range of attachments, provides versatility in hauling material, cutting trenches, digging and much more. From buckets for every job to pallet forks and hydraulic hammers, skid steer loaders handle it all.
The redesigned skid steer family now features a uniquely powerful single loader arm. It's a design that brings it all together: traditional power and performance, with the added benefits of greater safety and visibility.
Features & Benefits
Cab access
Cab access is safer through the side entry, large opening door. Eliminates the need for the operator to perform an uncomfortable body turn in order to sit down. Bolt-on, non-slip step provides safe access when entering and exiting the cab.
Volvo cab
The redesigned Volvo cab is spacious and safe, offering 27% more interior space over previous Volvo models. Ergonomic comfort for prolonged operator productivity.
Loader design
The unique, single loader arm design delivers the loading performance and durability of a traditional design, along with the safety, improved visibility and enhanced cab access of a side-entry, low tower design.
SERVICE access
Excellent service access due to a single loader arm, a forward-tilting cab and a large, rear compartment door. Simple, safe access to all service and maintenance areas.
Visibility
The single tower loader arm design, with no horizontal cross member, provides all-around, class-leading visibility. Features a large top window and narrow ROPS cab pillars. Increased safety when operating in tight areas.
Specs
Key specifications

| | |
| --- | --- |
| Rated operating capacity | 2,600 lb (1179 kg) |
| Net horse power | 74 hp (55 kW) |