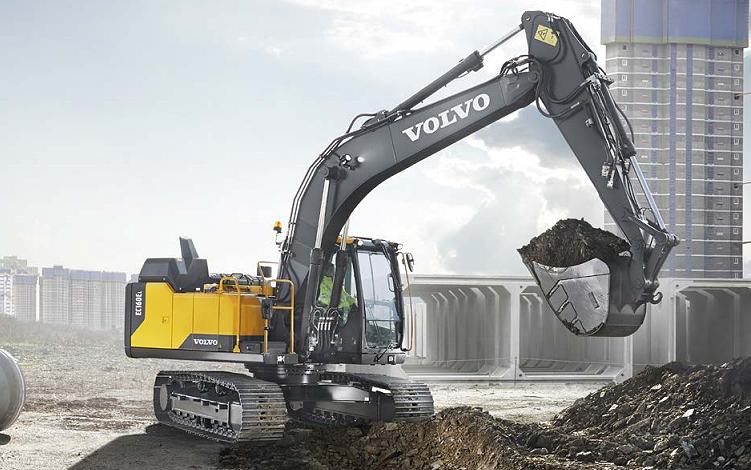 The Volvo EC160E excavator provides a range of new features to ensure efficiency is a key priority when delivering functions. By carefully considering every duty and component, a machine has been produced that incorporates maximum uptime while also reducing fuel consumption and cycle times – all while delivering elite performance.
Features & Benefits
Engine
Featuring proven advanced technology, and built on decades of experience, Volvo's robust D4 Tier 4 Final engine boasts more power - while reducing both fuel consumption and emissions to deliver superior quality, reliability and durability.
Power
The increased engine power combined with the increased pump flow creates a highly responsive combined operation and travel. It also produces faster cycle times and low fuel consumption which leads to higher productivity.
Boom float function
With the boom float function, the pump flow for boom lowering can be saved or used for other functions, reducing the cycle time. Also, the grading operation can be made easier.
Main Control Valve and Software
This valve is compatible with software in the machine – building on the already superior controllability by providing a smooth and easy operation.
Optimized hydraulics system
The hydraulics system, combined with the fully electronic control system and advanced ECO mode, has been optimized to work in harmony with D4 Tier 4 Final engine to match the engine power, reduce power loss and improve controllability and response time.
Human Machine Interface (HMI)
All machine interfaces – including joysticks, keypad, panel and larger LCD monitor – are ergonomically designed for optimum control and efficiency, resulting in increased productivity and operator comfort.
Side view camera
As well as the rear view camera, there is now a side view camera option to cover the visual blind spot. Both views are displayed on the color monitor, creating a safer working environment, protecting the operator and personnel on the ground.
Short-cut key
For added convenience, functions such as windshield wipers, cameras, auto-mute function can all be assigned a short-cut button on the joystick. This allows the operator to select a function during the application without disruption.
Bluetooth
To aid operator convenience and support better productivity, you can now connect a Bluetooth device to the machine enabling hands free operation.
Climate-Control system
With more than 98% efficiency, Volvo's air filtration system provides the cleanest operator environment in the industry – even in dusty conditions. The high-capacity heating and ventilation system improves comfort, enhancing productivity.
ROPS
Volvo cabs are ROPS certified according to the rigorous ISO standards. Their reinforced steel structures ensure the operator is protected in the unlikely event of the machine rolling over.
Lower frame
The intelligently designed X-shape lower frame enables even weight distribution increasing stability and durability - preventing damage from rock and debris.
Undercarriage
The idlers, track links, upper and bottom rollers are built to withstand all elements and terrain, to create improved long-lasting durability and support maximum uptime.
Attachment Management System
The password protected management system allows storage for up to 20 different attachments. It pre-sets and permits hydraulic flow and pressure to be adjusted within the cab, which ensures the use of various attachments for increased versatility.
Extra piping
An additional piping solution is available on the breaker and shear piping (X1), accommodating the use of tilt/rotator attachments.
Electrical pedal
The electric pedal offers precise control to allow the operator to use a wider variety of attachments.
Response mode
The attachment response sensitivity can be adjusted using the keypad. This allows the operator to tailor machine response for maximum impact in different environments.
Anti-slip steel plates
Well-positioned punched anti-slip plates provide superior grip and durability. The design facilitates easy cleaning while ensuring safety
Specs
Key Specifications

| | |
| --- | --- |
| Bucket capacity | 0.39 - 1.26 yd3 (0.3 - 0.96 m3) |
| Operating weight | 36,266 - 45,592 lb (16,430 - 20,860 kg) |
| Rated output at | 2000 r/min (33.3 r/s ) |
| ISO 9249/SAE J1349 net | 146 hp (109 kW) |
| Max digging reach | 29'6" (8.98 m) |
| Max digging depth | 19'11" (6.07 m) |