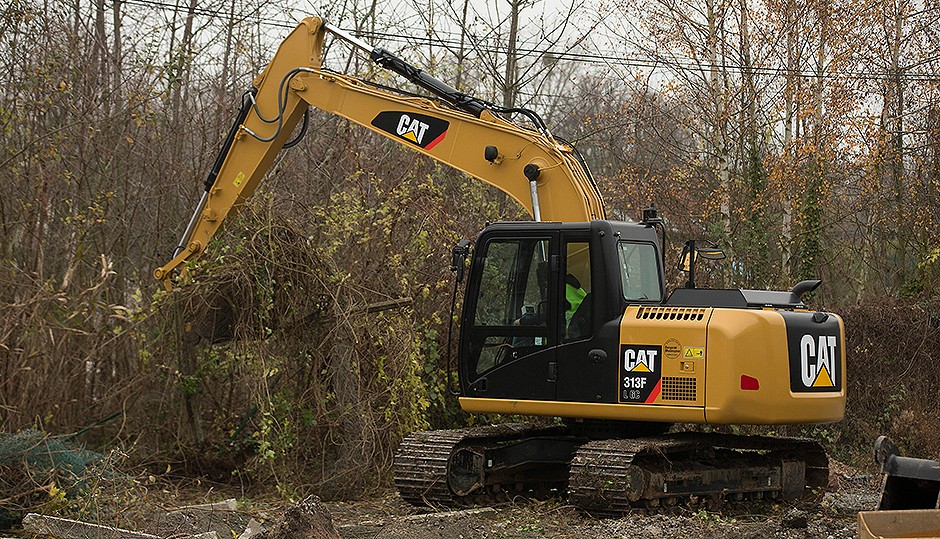 The new 313F L GC excavator is built for those who need dependable performance at a low cost per hour. The machine features an efficient C3.4B engine that's light on fuel – with no need for diesel exhaust fluid to meet today's emission standards. It also has a simple hydraulic system you can count on for everyday excavating tasks. Unlike other brands in its size class, the 313F L GC comes equipped with more unique attributes: Robust booms and sticks, strong and stable undercarriage, a quiet and comfortable Roll-Over Protective Structure (ROPS) cab, and easy-to-reach service points are just a few. Bottom line: If you are looking for a dependable, low-cost-per-hour excavator to get your work done – backed by unmatched support from a brand you can trust – look no further than the 313F L GC. It simply makes a great deal of business sense.
Features & Benefits
ENGINE
The Cat C3.4B engine meets U.S. EPA Tier 4 Final emission standards and provides plenty of power for the work you do without consuming a lot of fuel to do it.
FUEL-SAVING FEATURES
There are built-in features to help you manage how much fuel you use. One-touch low idle lets you reduce engine speed when the machine isn't working. Engine idle shutdown turns the engine off when it's been idling for more than the time that you set.
A SIMPLE, RELIABLE SYSTEM
The 313F L GC's hydraulic system is simple and reliable. The system uses a load-sense pump and a control valve that calculate required hydraulic flow so you can meet your daily job requirements quickly and efficiently.
A LOGICAL LAYOUT
Like all Cat excavators, hydraulic components on the 313F L GC are located close together in order to minimize the length of hydraulic lines. This logical layout leads to less pressure drops and more machine power for the work you need to do.
MAXIMUM VERSATILITY
When it comes to doing a variety of work, the machine's available high-pressure auxiliary and quick coupler circuits give you plenty of capability. An optional medium-pressure circuit (available from your local Cat dealer) adds more versatility.
A SAFE, QUIET CAB
The Roll-Over Protective Structure (ROPS) certified cab is not only a safety feature, but it is also a sound suppressor due to its special sealing and insulation.
A GREAT VIEW
Ample glass gives you great views out front and to the side. A large rear window, aided by a low-profile engine, gives you excellent visibility out back. A large skylight provides great overhead visibility; it also serves as an emergency exit.
A COOL AND WARM ENVIRONMENT
The automatic climate control system features multiple air outlets with filtered ventilation. Air flows on the floor, behind the seat, and in front of you to make your work in either hot or cold weather much more pleasant and productive.
A COMFORTABLE SEAT
The standard mechanical suspension seat includes a reclining back, upper and lower slide adjustments, and height and tilt angle adjustments to meet your needs for maximum comfort.
AN EASY-TO-USE MONITOR
The monitor displays critical information you need to operate efficiently. Not only can it memorize up to 10 different work tools, it's also programmable in up to 42 languages to meet today's diverse workforce.
DURABLE UNDERCARRIAGE
The machine's long undercarriage works extremely well in various work applications and conditions. Plus its track shoes, links, rollers, idlers, and final drives are all built with high-tensile-strength steel for long-term durability.
GREAT WEIGHT
The rigid 2.45 mt (5,400 lb) counterweight matches the machine's overall sleek appearance, and it provides plenty of balance for all of your work needs.
BOOM AND STICK
The 313F L GC is offered with a 4.65 m (15'3") boom and a 3.0 m (9'10") stick. This combination gives you plenty of reach for general excavating applications.
CHANGE JOBS QUICKLY
A quick coupler brings the ability to quickly change attachments and switch from job to job. The Cat Pin Grabber coupler is the secure way to decrease downtime and increase jobsite flexibility and overall productivity.
DIG, FINISH AND BREAK
A range of buckets dig everything from top soil to abrasive material. For finishing and grading work, compact and shallow ditch cleaning buckets fit the need. A hydraulic hammer equips the machine for breaking sidewalks, driveways, and pavement.
EASY TO MAINTAIN
The 313F L GC is a simple, compact, easy-to-maintain machine. You can reach most routine maintenance items like fluid taps and grease points from the safety and convenience of ground level.
Room to move
What's behind the doors – and what isn't – contributes to the 313F L GC's ease of service. For example, the diesel particulate filter used to capture emissions is compact and maintenance free.
MORE SERVICE BENEFITS
The fuel tank features a remote drain tube located in the pump compartment to make it easy for you to remove water and sediment during routine maintenance. It also has an engine oil drain tube to make oil changes easy without any tools.
EASY TO MOVE
Not only is the 313F L GC ideal for many everyday utility jobs, but it's also easy to get there because of its small size. Simply load it on tag trailer and go to work.
A SAFE, QUIET CAB
The ROPS-certified cab provides you with a safe working environment. It also contributes to your comfort because it's attached to a reinforced frame with special viscous mounts that limit vibration and unnecessary sound.
GREAT VIEWS
Ample glass gives you great views out front and to the side. A large rear window, aided by a low-profile engine, gives you excellent visibility out back.