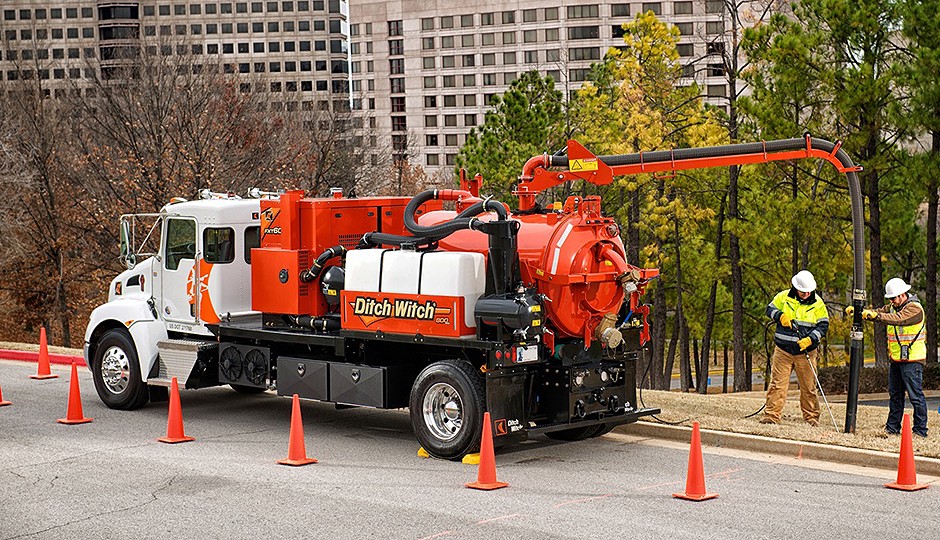 The Ditch Witch FXT60 truck vacuum excavator is an exceptionally versatile machine with the power to perform a wide variety of tasks, especially larger jobs in difficult-to-access locations. With 1,027 cfm (29.1 m3/min) of suction power and a high-pressure water system with a 5.5 gpm (21-l/min), 3,000-psi (207-bar) water pump, the FXT60 has more than enough power and suction for soft excavation tasks such as potholing or large cleanup jobs. The FXT60 is available on a Class 6 or 7 single-axle of Class 8 tandem-axle truck.
Features & Benefits
Power
Equipped with a 74-hp (55-kW) Deutz diesel engine, the FXT60 offers 1,027 cfm (29.1 m3/min) of suction power and a high-pressure water system with a 5.5-gpm (21-l/min), 3,000-psi (207-bar) water pump.
Productivity
Easy access to power pack for convenient servicing. Optional heater keeps water system from freezing in inclement weather and increases production in tight soils. Optional reverse-flow feature enables quick and easy offloading of spoils.
Hydraulic door
Standard hydraulic door opens fully horizontal to maximize the efficiency of spoils removal; door also features hydraulic locks.
Design
Designed specifically for mounting on truck frame rails, allowing system components to flex independently of truck, for maximum structural integrity.
Filtration
Reusable, 3-micron vacuum filter and a blower relief valve air filter provide the industry's best filtration; optional cyclonic filter cleans the air before it reaches the filter, minimizing maintenance.
Versatility
Mounts to single-axle truck of your choice, new or used, so you can control the level of initial investment and customize with toolboxes and support equipment; complies with all truck manufacturers' requirements.
Controls
Easily accessible controls and service points; curbside controls can be configured for left- or right-hand traffic, for greater safety and convenience.
Water-tank
Remote-fill water tank allows for easy filling and prevents siphoning back into the water supply.
OPERATOR COMFORT
At 82 dBA, the FXT60 is the quietest in its horsepower class; fully enclosed, insulated and lockable power pack protects major components from weather and vandalism while leading the industry in noise reduction.
SUPERIOR SUPPORT
Your Ditch Witch equipment is backed by a worldwide network of dealers you can count on for unmatched commitment to your success. From genuine Ditch Witch parts to factory-trained service to expert advice, your Ditch Witch dealer has it all for you.
Specs
Key Specifications

| | |
| --- | --- |
| Horsepower | 74 hp |
| Water Pump Flow | 5.5 gpm |
| Air Flow | 1,027 cfm (800 gal spoils tank) or 1,020 cfm (500 gal spoils tank) |
| Vacuum, Max | 16 in Hg |
| Fuel Tank Capacity | 25 gal |