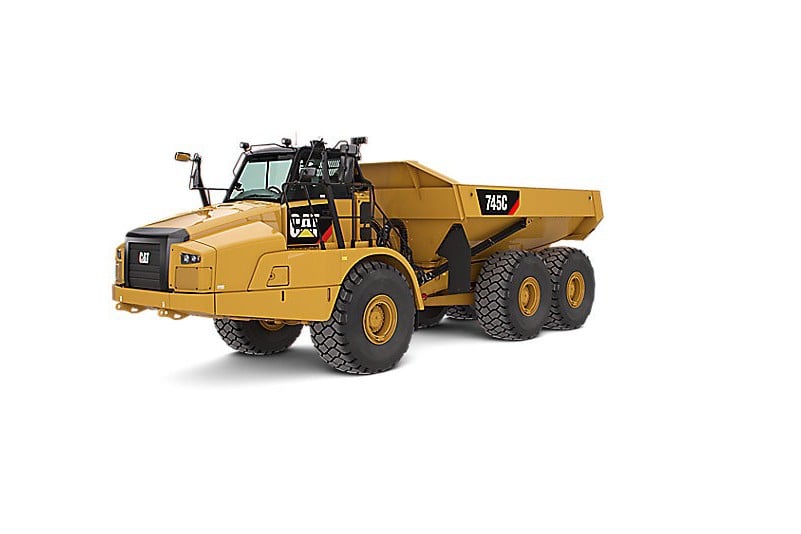 The Cat 745C with a 25 m3 (32.7 yd3) 41 tonnes (45.2 tons) increased capacity offers proven reliability, durability, high productivity, superior operator comfort and lower operating costs. With a focus on high productivity, the 745C has many updated and improved features, an all new power train and new ease of operation features including Automatic Retarder Control.
Features & Benefits
Engine
Every Tier 4 Final/Stage IV Cat engine with ACERT Technology is equipped with a combination of proven electronic, fuel, air and aftertreatment components.
ADVANCED MEUI™-C INJECTOR
Advanced MEUI-C injector platforms deliver increased injection pressures and more precise fuel rates. These durable injectors enhance responsiveness while controlling soot.
INNOVATIVE AIR MANAGEMENT
Cat Tier 4 Final/Stage IV engines feature innovative air-management systems that optimize airflow and enhance power, efficiency and reliability.
TORQUE CONVERTER
Larger diameter torque converter, configured for off highway applications, allows the higher engine power to be transmitted more efficiently to the lower power train.
AUTOMATIC TRACTION CONTROL (ATC)
The ATC system successfully introduced on the B Series has been further enhanced for even better performance. Application of the inter and cross-axle differential locks is 'on-the-go' and fully automatic.
AUTOMATIC RETARDER CONTROL (ARC)
In automatic mode, use of the retarder is much easier for the operator. As with ATC a number of machine operating aspects are monitored, and if required the engine compression brake is engaged automatically.
REGENERATION
When set to automatic, regeneration will occur without any interaction from the operator. The three modes of regeneration shown below allow the articulated truck to adapt to specific site conditions in the most efficient manner.
FRONT SUSPENSION
The three-point front suspension oscillates ±6° to provide a smooth ride, allowing the operator to travel at speed over rough terrain and softening impact loads on structures and components.
A-FRAME CONSTRUCTION
The front suspension uses an oscillating A-frame with a lateral tie rod to control axle sideways movement and stability.
REAR SUSPENSION
Features a walking beam with Caterpillar designed rear suspension mounts, which have long life and provide a reliable, and stable ride for excellent load retention.
RIDE COMFORT
The three-point front suspension with its oscillating axle and low-pressure ride struts, combined with the centre-mounted cab, offers unrivaled levels of ride comfort for the operator in all driving conditions.
AIR SUSPENSION SEAT
The air suspension seat provides improved operator comfort with a cushioned upper high back, adjustable damping with three settings, ride zone indicator and adjustable lumbar settings. It is fully adjustable to provide the optimal driving position.
CONTROL LAYOUT
The controls and gauges are easy to read and straightforward to operate, the controls and gauges allow the operator to focus on safe machine operation while maintaining productivity.
DASHBOARD
The integrated wrap-around dash puts all controls within easy reach of the operator. Featuring LED illuminated rocker switches for the dash dimmer, rear wash wiper, hazard warning, work lamp, secondary steer, A/C and cigar lighter.
ARTICULATING/OSCILLATING HITCH
The articulating hitch provides the truck with steering articulation, and the oscillation ensures all-wheel ground contact in rough terrain.
SERVICE BRAKES
Dual-circuit, all wheel braking system. The full power hydraulic system actuates enclosed, oil immersed, multi plate brakes with independent front and rear circuits and accumulators.
PARKING BRAKE
Located on the centre axle in an elevated position, it is spring applied and hydraulically released.
RADIATOR
The radiator package is located behind the cab, which provides protection from frontal impacts and offers easy access to the inlet and outlet sides of the radiator.
EXTENDED LIFE COOLANT
Extends the change interval and improves component life by reducing aluminum corrosion.
Specs
Key Specifications

| | |
| --- | --- |
| Engine Model | Cat C18 ACERT |
| Rated Payload | 45.2 tons (41.0 tonnes) |
| Heaped SAE 2:1 | 32.7 yd3 (25.0 m3) |
| Gross Power – SAE J1995 | 511.0 hp ( 381.0 kW) |
| Net Power – SAE J1349 | 496.0 hp (370.0 kW) |