Above ground, equipment wash racks are environmentally friendly
Historically, all types of vehicles and equipment have been washed on a surface made of concrete with in-ground collection pits; the alternative is an above ground steel wash rack.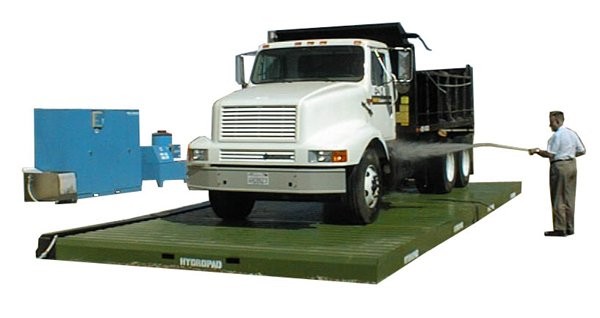 A concrete equipment wash rack requires architectural design, PE stamps, building permits and bids from contractors to build the wash rack. Once the construction of the concrete wash rack is completed, it becomes a permanent fixture.
Hydro Engineering's patented Hydropad above ground equipment wash racks do not require; an architectural design, permitting or construction of any kind. Hydropad instant wash racks are equipment and not a capital construction project. An above ground wash rack can be moved when required.
As the Inventors and patent holders of intellectual property on above ground wash rack systems, with an easy to clean side trough, Hydro Engineering has been looked to for additional innovation and improvements. We are now introducing new advancements in gutter cleaning methods that are adding increased flexibility to Hydropad equipment wash racks.
In low solids washing applications, a Hydropad side gutter is easily cleaned with a hand shovel.
In Golf Course and turf equipment maintenance applications, a newly designed porous insert is placed in the Hydropad side gutter. This gutter insert captures grass clippings, leaves and large debris. By eliminating these solids from the waste stream, clogged sumps and pumps are a thing of the past.
In moderate to heavy solids applications Hydro has three new methods for solids removal.
1. Collection and pumping of heavy solids and liquid to an above ground solids settling tank (AGSST).
2. An In-gutter conveyor that continually cleans solids from the Hydropad side gutter.
3. A Skid Steer drive-in clean out gutter. Heavy solid automatically flow into a collection trough designed to be used in conjunction with a skid steer loader for removal of collected solids.
The Hydropad above ground wash racks work much like a home roof and gutter system. As equipment washing takes place (on the roof), the water and solids fall onto the Hydropads water proof surface and flow to the side gutter which is placed on the down slope side of the Hydropad. The waste water, dirt, oil and grease will flow through uniquely patented channels in the Hydropad top surface to the side gutter. The side gutter is where separation of solids from waste water begins. The patented side gutter also allows for continuous wash operations with no interruption for gutter cleaning because the gutters are not in the above ground wash rack's work surface.
Hydropad above ground vehicle, equipment and truck wash rack modules are now available in 5 different weight ratings and 6 different sizes. When connected together they form any size pad array required. This enables the owner to choose a weight rating and pad size to handle the smallest job, like washing bicycles or engines, to washing the largest and heaviest construction equipment built. Once the weight and dimensions of the largest piece of equipment to be washed is determined, selecting the Hydropad modules are easy.
Hydropads can be placed on an improved or unimproved, fairly level surface. The Hydropads have a new simple connection system, which makes connecting Hydropads modules together fast and yet extremely secure. It's like building a bridge. The Hydropad steel equipment wash rack meets the first requirement of a Storm Water Pollution Prevention Plan (SWPPP) for a wash rack. From here wash water can be filtered via Hydro Engineering Inc. waste water filtration equipment and sent to the sanitary sewer or recycled for continued use.
These new products will be on display at CONEXPO 2001, March 22nd -26th in the GOLD LOT booth 310.

Company info