Hyundai Construction Equipment selects DPL's asset monitoring solution
Titan equipment monitoring system endorsed for entire Western Hemisphere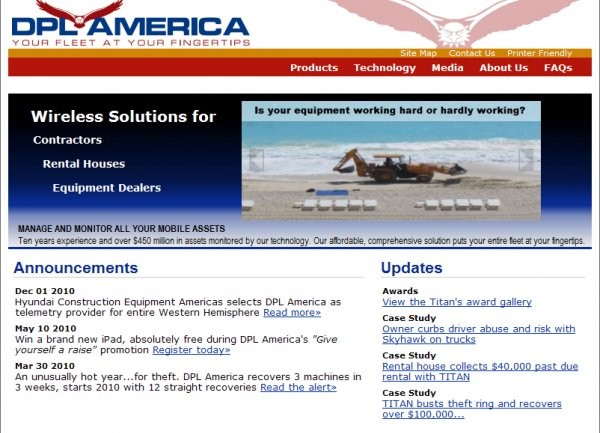 DPL America has signed with Hyundai Construction Equipment Americas, Inc, as their exclusively endorsed provider of aftermarket telemetry products. This endorsement makes DPL America's TITAN Equipment Monitoring System available through all Hyundai dealerships across the United States, Canada and Latin America.
"This agreement provides our customers with the option of purchasing DPL America's Titan Equipment Monitoring System through the extensive Hyundai dealer network across the Western Hemisphere. Additionally, our dealers will have the opportunity to realize the Titan's cost-saving and revenue generating benefits on their own rental and on-road truck fleet. The Titan Equipment Monitoring System can be used on the full Hyundai line of construction and material handling equipment, including loaders, back-hoes, forklifts, skid-steer loaders, excavators and more," stated Jim Holliday, National Service Manager for Hyundai Construction Equipment Americas, Inc.
Holliday added, "To find the right, comprehensive solution for our dealers and customers, we sought a telemetry supplier who reflects Hyundai's core values of quality before and after the sale. With DPL America, we offer the strongest mix of product functionality, rugged design, support and company experience".
"We are very excited to be working with market leader Hyundai Construction Equipment Americas to provide their dealers and customers with a Hyundai-endorsed equipment management system that gives them significant benefits, including productivity improvements, cost-savings and increased revenue opportunity", said Tony Nicoletti, Director of Sales for DPL America. "This agreement enhances Hyundai's ability to better serve their customers and add unsurpassed value to their product line across North, Central and South America".
The award-winning Titan Equipment Monitoring System combines the Internet, international cellular and global positioning system (GPS) technologies in a rugged metal hardware unit to deliver a powerful solution for remote asset management, monitoring and theft protection. Data collected from the Titan is accessible anywhere in the world via an easy to use, password protected Web based application and can be integrated into customer back end software packages.
Other advantages of the Titan system include the ability for engine hours, machine performance, idle time and productivity data to be reported on demand, at automated intervals and delivered by regularly scheduled e-mail reports. Multiple service counters, with past due alerts, and notification of a threatening condition on the asset help keep maintenance and repair costs to a minimum. In addition to real-time locating and remote disable capabilities, theft protection is executed through user-defined curfews of non-operation, perimeter alerts, speed alerts and a homing beacon function -- all of which notify the owner instantly via e-mail and cell phone. Both Hyundai dealers and their customers with over-the-road assets will experience reduced fuel and service costs with increased driver productivity and accountability through the universal Titan System monitoring their on-road vehicles.