Vacuum tube lifter suction is powered independently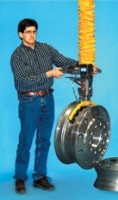 The Anver VT140 Tube Lifter provides up/down lifting using an electric vacuum pump which has a 100 percent duty cycle and provides instant attach and release. Featuring a compressed air powered vacuum pad a t t a c h m e n t which creates suction using a venturi pump, this lifter is ideal for use on loads having a limited surface area that would be damaged by mechanical devices.

Assuring that only rubber touches the load, the Anver VT140 Tube Lifter and venturi powered pad attachment was developed for lifting alloy wheels from inside the rim to avoid damage from slings and clamps. Standard features include an ergonomic handlebar with built in controls, a 360-degree swivel top for unrestricted rotation, durable wire-reinforced tube, and a vacuum gauge.