Upgraded tandem-drum vibratory rollers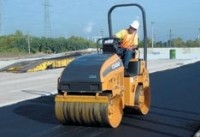 Case Construction Equipment has upgraded its DV Series tandem-drum vibratory rollers to more powerful, Tier III engines that deliver from 31 to 48 hp (23 kW to 36 kW), up from 27 to 38 hp (20 to 27.6 kW).

The tandem-drum line features high centrifugal forces, dual frequency and a hydrostatic drive that provides good traction and smooth performance even on steep slopes.

The tandem-drum DV201, DV202 and DV204 models range from operating weights of 5,510 to 7,720 pounds (2500 to 3500 kg), with drum widths from 39.4 to 51.2 inches (1000 to 1300 mm). Drum frequency on Case DV rollers ranges from 3,180 to 3,720 vpm (53-62 Hz) with centrifugal forces from 4,580 to 8,877 pounds (20.8 to 40.3 kg).