Kalyn Sibert's unique 13-axle heavy transport trailer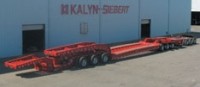 Kalyn Siebert is always improving this product line. One of the latest developments is the redesign of the Gooseneck. This gives a 'scraper 'style gooseneck with a lot better stability.

The company states that some of their customers prefer to use the 13 axle model when delivering on site the Nacelle portion of a windmill tower. The added stability is a real plus when transporting this type of equipment.

Another great feature is the Booster pivot point that is as far back as practical. This allows tracking while being pulled around a curve, staying in line and trailing directly in the track. Pivot points which are located further forward will trail to the inside, pushing the trailer, sometimes to the point of turning over.

West Coast-type suspension assures equalization of loads at each axle. Horizontal four-pin design at the rear of the deck allows the deck and rear sections to be shimmed, adjusting the ground clearance.