Home improvement retailer Lowe's ignites Skilled Trades and Technology Week with $1.25 million contribution
Annual showcase draws attention to the impending shortage of skilled trade workers and new career opportunities available to youth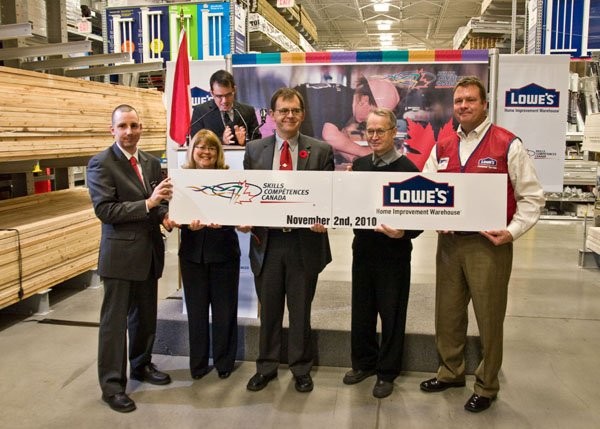 Skills/Compétences Canada, a national not-for-profit organization that actively promotes careers in skilled trades, today hosted the official launch of Skilled Trades and Technology Week 2010 at a joint event that also marked a major funding contribution from home improvement retailer Lowe's.
Alan Huggins, President of Lowe's Canada, today announced a $1.25 million dollar contribution and the company's five year commitment to help Skills/Compétences Canada promote skilled trades and technology professions to youth.
"Lowe's is committed to helping close the gap on the impending shortage of skilled trade workers that Canada is facing", says Huggins. "We are very passionate about the work Skills Canada is doing and are thrilled to partner with them. Through our investment, we will work with Skills Canada to help prepare the next generation work force with the world-class skills needed to become the contractors and industry leaders of tomorrow."
The Lowe's funding program is aimed at engaging students and teachers looking to improve their school campus, curriculum delivery or surrounding community. The contribution supports High School based projects currently in place in the provinces of Alberta and Ontario, and will expand to other regions as Lowe's establishes retail locations in other communities.
"It is because of partners like Lowe's that we are able to continue our mission to encourage and support a coordinated Canadian approach to promoting skilled trades and technologies to youth," says Donovan Elliott, President of Skills/Compétences Canada. "Skilled trades are the foundation of industries that drive the Canadian economy. With industry partners like Lowe's, we can continue to help inspire and encourage youth to pursue career paths in skilled trades and technology while ensuring industry has the pipeline of skilled labour workers that they need for the future."
An initiative of Skills/Compétences Canada, Skilled Trades and Technology Week is an annual event that generates awareness of the growing skilled labour challenges in Canada, and recognizes students developing trade and technology skills. According to the Conference Board of Canada, a shortage of more than one million skilled workers is forecasted by 2020, with an estimated 40% of all new jobs in the skilled trades and technology industries. The event includes interactive student skills demonstrations and activities across the country, hosted by Skills/Compétences Canada Provincial/Territorial offices.
"Our government is committed to helping Canadians develop the skills and experience they need to participate and succeed in the job market," said the Honourable Diane Ablonczy, Minister of State (Seniors). "Skills/Compétences Canada plays an important role in raising awareness of careers in the skilled trades and technology sectors." Minister Ablonczy made the remarks at the official launch of Skilled Trades and Technology Week in Ottawa today.
Skills/Compétences Canada was founded in 1989 as a national, not-for-profit organization that works with employers, educators, labour groups and governments to promote skilled trades and technology careers among Canadian youth. Its unique position among private and public sector partners enables it to work toward securing Canada's future skilled labour needs while helping young people discover rewarding careers. Skills/Compétences Canada offers experiential learning opportunities including skilled trades and technology competitions for hundreds of thousands of young Canadians through regional, provincial/territorial, national and international events, as well as skilled trades awareness programs. Headquartered in Gatineau, Quebec, Skills/Compétences Canada is the Canadian Member organization of WorldSkills International. For more information visit www.skillscanada.com or call 877-754-5226.
Founded in 1946 and based in Mooresville, N.C., Lowe's is the second-largest home improvement retailer in the world, serving approximately 15 million customers a week in its more than 1,700 stores in the United States, Canada and Mexico. Lowe's Companies Canada, ULC first opened Canadian stores in December 2007 and now operates 20 stores in Ontario and Alberta, with more than 2,800 employees company-wide. In 2005, Lowe's announced plans to open its first stores in the Greater Toronto Area, with as many as 100 stores across Canada over time.