Diesel-powered line features 20 to 350 kilowatts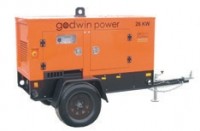 The diesel-powered Hush-Power generator line from Godwin Pumps includes products with power outputs ranging from 20 to 350 kilowatts along with a user interface that is advanced and easy to use.

A new feature is the programmable microprocessor control panel, which offers easy push-button programming for preheating of glow plugs, a range of low fuel shutdown, and service schedule notification. The panel monitors and controls the engine and generator, and if an issue is sensed, will give automatic warnings and shutdown if necessary. Noise is reduced through the use of a sound attenuated aluminum enclosure and stainless steel hardware, producing just 68 dB(a) of sound at 23 feet. A new alternator is designed to give the generators more cranking power when starting larger horsepower motors.

Along with the generators, a powerful engine is paired with brilliant lights on new portable light towers, which are designed to cover five to seven acres with illumination while requiring just one person to operate them. The portable light towers are equipped with a Mitsubishi 12.2-horsepower diesel engine running a 6,000-watt generator. The units are built with a 30-foot manually deployed steel mast that rotates 360 degrees and projects 4,000 watts of adjustable illumination from four 1,000-watt metal halide lights.

With a 30-gallon fuel tank and fuel use of approximately 0.5 gallons per hour, the generator, which weighs 1,600 pounds dry and is easily towed, has a run time of 60 hours. With a four-point outrigger stance, it can withstand 65-mile-per-hour winds.