All-electric hot water washer runs entirely on electricity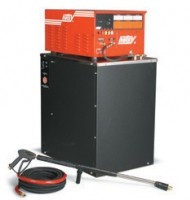 The HWE series of all-electric hot water pressure washers are the only models in the Hotsy line that run entirely on electricity. Water is heated in a stainless steel coil, submerged in a tank of water solution for instant hot water when you plug it in – no noise and no fumes, making it useful for industrial cleaning indoors.

All models of the HWE series are compact, and can fit in a closet or any out of the way location. The Auto Start function allows the unit to be turned on with the pull of the trigger for convenient remote operation. The Hotsy HWE produces cleaning power ranging from 2,000 to 3,000 psi of water pressure.

As with all of Hotsy industrial-grade pressure washers, these models come standard with the Hotsy triplex belt-drive high-pressure pump that comes with a seven-year warranty.