Portable crusher with three-stage crushing action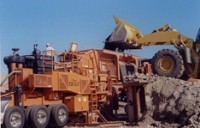 Eagle Crusher's 1400-45 is a high-production, portable crushing plant that easily replaces dual crusher circuits without sacrificing productivity. The 1400-45 produces uniform cubical products in the toughest hard rock and heavy-duty recycling applications, and features three-stage crushing action resulting in a high-crush count and a reduction ratio of 24-to-1, while meeting Superpave specifications.

The 1400-45 rotor design contains an extremely heavy rotor, allowing it to achieve superb operational inertia. The unit's primary/secondary crushing capabilities eliminate the expense of jaw/jaw or jaw/cone crusher circuits, and it utilizes a powerful 510-hp diesel engine with 175 kW generator, allowing operation of optional equipment without an additional power source.

Additionally, adjustable primary and secondary curtains allow for precise product gradation control, and the hydraulic-opening impactor housing offers unobstructed access to crushing chamber and secondary curtain adjustment. The 1400-45 includes a five-year rotor guarantee.