Doublescreen has huge output for asphalt processing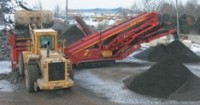 The S-5 Doublescreen features huge output capabilities and is used to process asphalt millings into three fractions of material.

The unique feature of the S-5 is the doublescreen box which separates the asphalt into fine grained and oversize material. The oversize is fed to a crusher after the finer material has been screened off and processed by the crusher to achieve the highest possible quality product.

The processed asphalt with a grade of minus 1/2-inch (-12mm) can be produced on the tail conveyor, and a material grade of 1/4+1/2-inch (6mm+12mm) from the side conveyor.

The split-drive, interangling, double screen system on these units has been purpose-built to handle the most difficult materials. The split screening facility enables the first screen box to be used as a fines extractor while the second box operates as a grader, giving very specific grading of products for a mobile system.

The design of the S-5's bogie allows the machine to be transported as a trailer quickly and easily without the use of a low loader. Also, the bogie system is hydraulic, allowing for easy removal at the job site and quick set up for screening.
Company info