Fleet Managers Learn to Reduce Budgets 25% and Improve Performance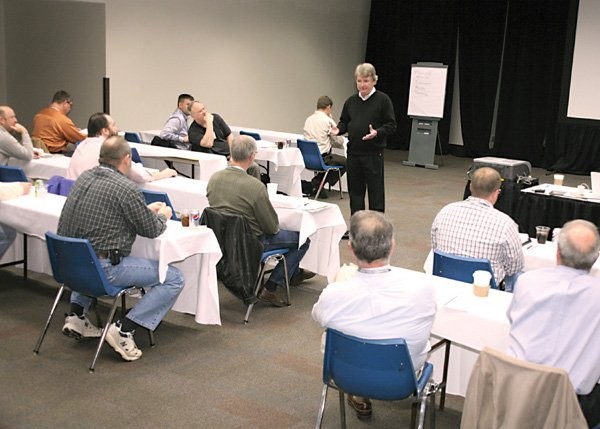 Fleet managers can learn how to dramatically improve operations, productivity and financial performance at the newly expanded Fleet Management Symposium during The Work Truck Show 2011.
The Work Truck Show 2011, North America's largest vocational truck event, is held in conjunction with the 47th Annual National Truck Equipment Association (NTEA) Convention at the Indiana Convention Center, Indianapolis, IN, March 8-10, 2011 (Convention, Green Truck Summit and educational programming begin March 7). The Fleet Management Symposium runs from 9:00am–4:00pm Monday, March 7, and continues on March 8 from 9:00am–12:00pm. The Symposium had been offered as a full-day session at The Work Truck Show for the previous six years.
"The Fleet Management Symposium has been extremely popular with fleet managers from a wide variety of industries," explains Steve Sill, NTEA convention chairman and president of Aspen Equipment Co. (Bloomington, MN). "But we received a lot of feedback that the participants would like more time to really drill down into the strategies and techniques being presented. As a result, we've added another half day and new content to the program this year."
The Symposium focuses on best practices and strategies for vocational fleets of all sizes. It teaches fleet managers how to:
Reduce capital and operating budgets by 25% in 12 months.
Apply 20 benchmarks with more than 100 performance measures.
Implement new fuel, shop, and parts management models.
Cope effectively with shop-parts skills shortages.
Compute the 12-step fully loaded labor rate.
Calculate optimum fleet staffing levels.
Make shop labor insource/outsource decisions.
Implement fleet management software.
Apply remote GPS tracking and onboard monitoring to manage work crews and fleet assets.
Specify work trucks to achieve lowest total owning/operating cost with the highest productivity.
Fleet managers attending the Symposium will receive the FleetWhiz™ CD (a $500 value) at no extra charge. The CD includes 36 management textbooks covering 2,500 topics over 7,500 pages to help managers make better, quicker and defensible management, purchase and outsource decisions on a daily basis. Symposium attendees will also receive the NTEA Vehicle Life-Cycle Cost Analysis CD (an $85 value). This program helps fleet managers evaluate vehicle acquisition cost scenarios.
As part of the expanded curriculum, Bob Johnson, fleet relations director for the NTEA, will join Kelly Walker, president, Kelly Walker Associates (Morristown, NJ), in leading the Fleet Management Symposium.
Fleet managers are also invited to the Truck Fleet Manager Training Session & Networking Luncheon on Wednesday, March 9, from 11:30am-1:30pm. This Special Session, entitled "Implementing a Complete Fuel Management Program to Increase Performance and Reduce Costs," will provide fleet managers with insights into how a fleet can implement a holistic fuel management program guaranteed to reduce fuel expenses. Topics include deploying emerging technologies; the link between driver behavior and fuel cost reductions; strategies to lessen the market volatility of fuel costs; and the impact of preventive maintenance on fleet performance, operating costs and emissions.
A ticket is required for both events. The Fleet Management Symposium registration package includes admission to all three days of The Work Truck Show 2011, two additional days of educational conference sessions, lunch on Tuesday and Wednesday, and the Truck Fleet Manager Training Session & Networking Luncheon on Wednesday. Early bird registration is $349 through Jan. 28, 2011. A ticket to the Fleet Manager Training Session & Luncheon also may be purchased separately by any fleet manager attending the Work Truck Show for $15 through Jan. 28, 2011.

Company info
37400 Hills Tech Drive
Farmington Hills, MI
US, 48331-3414

Website:
ntea.com
Read more