IHSA launches Working at Heights program
Ontario Minister of Labour kicks off new course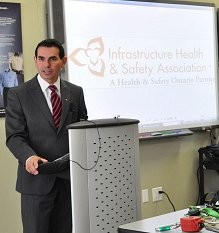 Ontario Minister of Labour Peter Fonseca was on hand yesterday to help the Infrastructure Health & Safety Association (IHSA) launch its new fall protection training program, Working at Heights: Fundamentals of Fall Prevention.
Minister Fonseca congratulated IHSA and its experts for their efforts in creating the program.
"This full-day Working at Heights training program will help workers recognize the hazards and prevent injuries. It starts next week … and will be delivered by IHSA's experienced trainers from the construction, transportation, electrical, and utilities industries.
"I believe that this program has the potential to become the 'gold standard' for basic fall-prevention training in this province," he said.
Anyone who works at heights needs training. This program provides workers with the essentials.
"IHSA is an industry leader in fall-protection training. And I thank all those who were involved in the development of this program," said Minister Fonseca. Click here for a video clip of the Minister at yesterday's event.
The launch, at IHSA's Skills Development Centre, included the screening of a video on safety for swingstages (see the video here).
Working at Heights—Fundamentals of Fall Prevention
If your workers face fall hazards, you're required to provide them with fall-protection training.
This full-day training program explains the essentials of fall protection in the construction, electrical & utilities, and transportation industries. Taught by IHSA experts, it involves classroom instruction and hands-on exposure to some of the most common fall-protection equipment.
Although employers will still have to provide application- and equipment-specific training, Working at Heights is your best choice for training workers on the fundamentals.
And you won't get better value for the cost anywhere. The full-day course is just $160 for members*, $320 for non-members. Courses are already filling up.
The following training dates are scheduled for IHSA's location at 21 Voyager Court South in Etobicoke:
October 28
November 3
November 12
November 17
November 24
November 29
December 7
December 20