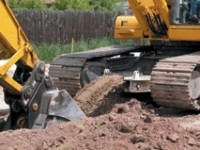 Felco Bedding Conveyors allow an excavator operator to control when, where, and how much bedding material is placed in the trench while bedding pipe. Bedding conveyors are indispensable for projects involving tight work areas and narrow alleyways, and they will increase production of any project.

Mounted between the tracks and attached to the carbody, the Felco Bedding Conveyor taps into the excavator's track drive circuit to power the conveyor's hydraulic motor. The 3 to 8 cubic yard hopper is mounted on the rear of the conveyor, providing clearance from the counterweight and allowing the excavator to move freely along its tail swing arc. The standard bedding conveyor, delivering one cubic yard of bedding material every seven to 10 seconds, is easily removed using quick disconnects on the hydraulic lines and pin connections holding the conveyor to the carbody.

Using a loader to charge the hopper with bedding material, the conveyor transports the material between the tracks to the nose of the conveyor and into the bucket. Because the operator controls the conveyor from inside the cab, he can fill the bucket with the exact amount of bedding material, placing it where and when he needs it.

Efficient and timely material placement increases production, reduces job and street congestion, and minimizes the impact of overheads. Placing bedding material with a bedding conveyor is more efficient than cycling to a stone box or dumping directly into the trench with a loader.

Since the operator is controlling the conveyor from inside the cab, he has a direct line of sight into the trench, as well as on both sides. Filling the Bedding Conveyor hopper with material rather than dumping from the trench side keeps a loader away from the trench edge, reducing the opportunity for accidents.