New Bi-Mode valve improves productivity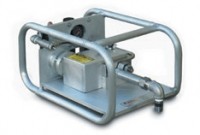 NLB has introduced the first field-repairable Bi-Mode valve for rotating ultrahigh-pressure (UHP) water jet lances. The NLB 8488 minimizes downtime with two disposable cartridges that can be replaced in just 60 seconds. The cartridges are similar to those used in NLB lances and foot controls.

This latest Bi-Mode valve, rated at up to 40,000 psi (2,800 bar), is a companion to the NCG8400A-3 rotating UHP lance. It facilitates the use of a rotating lance at ultra-high pressure and lets users operate two lances (with two valves) simultaneously from a single UHP pump unit. Two-lance operation requires a simple nozzle change. The NLB 8488 is rugged and durable, with a rounded frame for easy carrying.