Fully modular vertical transport solution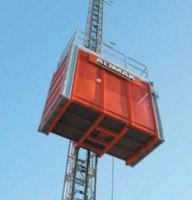 Alimak Hek's Scando 650 offers a large number of possible configurations with different doors and gates, speeds and payload capacities.

A fully modular vertical transport solution, the Scando 650 hoist offers a high level of flexibility, as it is available in various configurations including different doors and gates, drive units (a two-motor DOL and two- or three-motor FC), speeds (up to 65 m/min) and payload capacities. This flexibility ensures that the Scando 650 can be configured to fit virtually any customer application. What's more, it can be done with relatively few modules and components, meaning that reconfiguring the unit is fast and simple. The three available motors, which drive the system through a high efficiency gearbox, provide more hoist power while using as much as 40 percent less power than previous Scando models. Available in single- or twin-car configurations, the Scando 650 offers payloads of 1,500 to 3,200 kg/ car and has a standard maximum lifting height of 400 metres, which can be increased upon request.