Transportable recycling equipment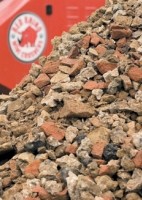 To date Red Rhino Crushers have successfully produced and distributed two special recyclers, the 4000 series and 5020 crusher. Both crushers are transportable on a conventional road trailer and offer usage from 2 to 18 tonnes per hour.

For the past two years Red Rhino Crushers Ltd. has led the way in transportable recycling equipment dedicated to reducing landfill, lowering building site costs, reducing aggregate extraction and assisting the building and construction industry on becoming environmentally friendly.

With many customers within the UK and abroad contacting Red Rhino Crushers on a daily basis, the development team established a further gap in the market where useful economies of scale could be yielded for the larger recycling conscious companies together with local authorities.
Company info