Lift your profits by keeping vehicle lifts in shape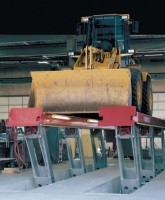 Lifts provide comfortable access to every serviceable part of any vehicle, enabling technicians to get more work done in less time, for maximum productivity and profitability. Proper maintenance practices will ensure a long lifetime of service. "There's more riding on your vehicle lifts than trucks and construction equipment," says Ron Lainhart, Rotary Lift parts and service manager. "Vehicle lifts support your business. Productivity studies conducted by fleets and truck maintenance providers have found that a single vehicle lift can add $100,000 or more to the bottom line in terms of annual profits or reduction in labour overhead. If a lift is down for repair, productivity in that bay can be cut in half." To keep your vehicle lifts operating properly, good maintenance and inspection practices are crucial. Rotary Lift offers the following advice.

1. Read and follow the guidelines in your lift owner's manual. Maintenance and inspection requirements vary for different styles and brands of vehicle lift. The owner's manual will cover the specific needs of each lift.

2. Schedule annual lift inspections for all of your vehicle lifts. This inspection should be performed by a factory-authorized technician. Your lift manufacturer can recommend authorized service companies in your area.

3. Keep your lift well-lubricated, according to manufacturer guidelines. Rotary Lift offers a full line of lubricants formulated specifically for vehicle lifts.

4. Whether maintenance is performed in-house or by an outside service company, be sure to insist on genuine OE replacement parts. OE parts were designed by the lift manufacturer to original design specifications. Aftermarket parts are reverse-engineered and may not use the same materials or incorporate the latest design changes. The Automotive Lift Institute (ALI) recommends using original equipment (OE) parts to ensure proper fit and function.

Using aftermarket parts on an ALI-certified lift also may void that lift's certification.