Managing equipment to increase revenue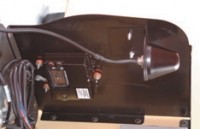 JDLink automatically collects, transmits and manages information about where and how construction equipment is being used, as well as critical machine health data for superior equipment utilization, improved productivity and increased revenue. The system uses QUALCOMM's Global-TRACS equipment management system to provide customers with vital information about equipment location, machine health and service status. Additionally, it issues special alerts to notify customers if equipment moves outside pre-set boundaries. "Having this realtime information system will enable customers to save time and costs, maximize their equipment utilization and uptime, and improve their overall service," said Ken Poppe, product marketing manager, advanced technology for John Deere Construction & Forestry Company.

Four levels of service will be offered with JDLink. The Standard level will provide owners with machine location status, machine service hours and location monitoring capabilities. The Advanced level of service will provide customers with the Standard level, plus dash indicators and fuel and equipment utilization information via engine load monitoring. The Ultimate level of service expands upon these offerings by adding current and stored monitoring of component pressures and temperatures, fuel consumption, as well as transmission gear selection and full-featured diagnostic information retrieval. The Direct level enables customers to download machine operating history and diagnostics directly to a laptop.