Pavers provide excellent maneuverability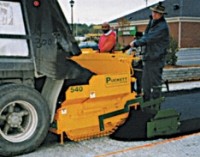 The 28-hp 540 and 37-hp 560 Puckett pavers have, respectively, 8- and 9-foot basic screed widths, 4- and 4.5-foot minimum paving widths, 12- and 13-foot maximum paving widths, and hopper capacities of 4 and 5 tons. The screeds are heated from the exhaust, with optional propane heated screeds. Depth adjustment of the mat is quick and simple, and side gates provide excellent flow to the extensions. Dual controls and excellent maneuverability enable the operator to pave in tight areas. Dual hopper lift cylinders provide higher lift and stability. Sprocket drive and automatic tensioning of the track are standard.

The folding wings on the 540 Model enable easy drive on loading with minimal trailer space.

The 560 has an independent auger pump and an enhanced screed extension.

Easy access to filter and grease points provide quick maintenance. Walk through operator platforms with convenience auxiliary controls make the right side operator friendly. An economical, exhaust heated screed with propane option is also available.
Company info