Rock boring success in Ontario with Robbins SBU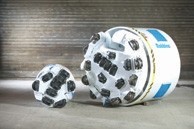 The Robbins Small Boring Unit (SBU) allows any Auger Boring Machine from 24 to 72 inches (0.6 to 1.8 m) to cut through hard rock and mixed ground. The SBU is a small diameter rock boring attachment and bearing housing assembly for use on utility installations underneath roads, rivers, or rail lines.

The SBU has been proven on hundreds of projects around the world, including a storm sewer project recently completed in Toronto. A 54-inch (1.4 m) diameter SBU and 60/72-1000 Auger Boring Machine were utilized to bore two 65 m long crossings in limestone and shale with UCS 103 MPa. The two SBUs bored efficiently through the road crossings at a rate of 3 m per hour, finishing on schedule and well within the line and grade requirements for the project.

Robbins SBUs are available in sizes from 24 inches (0.6 m) to 72 inches (1.8 m) in diameter. The design of SBUs is based on Robbins large-diameter tunnel boring machines. A circular cutting head is fitted with disc cutters available in 6.5-, 9.5-, or 11.5-inch diameters (depending on geology). The SBU is welded onto the lead steel casing, from which it receives forward thrust. The Auger Boring Machine supplies thrust through the casing and torque in order to turn the cutterhead to excavate rock. Muck is normally removed via the full diameter auger; however, muck can also be removed using a small invert auger, muck cars, or a conveyor system.

Once the machine is in the ground, line and grade can be controlled using stabilizer shoes located behind the cutterhead. The shoes can be adjusted to steer the machine during the first 6 to 12 m of the bore, making the SBU useful on jobs such as gravity sewers.

SBUs are a more efficient alternative to conventional tungsten carbide cutting heads in rock. Carbide bullet bits are precision manufactured for soft ground (under UCS 75 MPa) and tend to break off in hard rock, requiring expensive maintenance and repairs. Robbins disc cutters, in contrast, can bore through hard rock (UCS from 25 to over 200 MPa) on drives up to 100 m (more or less depending on ground conditions and diameter) without needing any cutter changes.