Solution to tool freeze-ups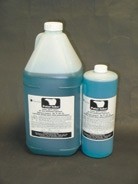 Most outdoor workers have experienced tool freeze-ups, even at above +5 degrees Celsius (+40 degrees Fahrenheit).

Obviously, compressed air expands when it passes through the air tool or valves to the exhaust. This has an immediate cooling effect and any moisture in the air from the compressor can begin to freeze. In unheated spaces or outdoor usage, this can be a major problem.

An easy solution is to addPolar Lube to your airline lubricators. Polar Lube can also be applied directly to the inlet to unfreeze the equipment. This product automatically absorbs the moisture and allows outdoor tools, cylinders, valves and air hoists to be protected down to -50 degrees Celsius (-60 degrees Fahrenheit).