Laying a foundation for EMR with ECM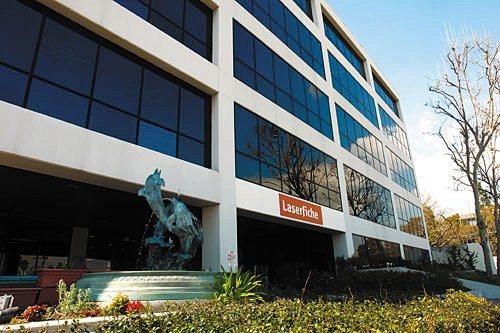 Ask Michelle Rosson, HIM director at the Regional Medical Center at Memphis (THE MED), why she began investigating enterprise content management (ECM), and she says simply, "My file room was going to explode!"
THE MED is an acute-care teaching hospital in Memphis, Tennessee. Well-known for its cutting-edge trauma and burn centres, it also houses an additional 50 areas of specialty, including wounds, high-risk obstetrics, neonatal medicine, sickle cell and HIV/AIDS.
The hospital relies heavily on paper – particularly for patient records. Some nursing documentation is housed in Meditech, but none of the physician orders, progress notes or surgical packets are handled electronically. With over 500 physicians and an additional 100 residents serving THE MED's patients, the HIM department is forced to manage an overwhelming amount of paper records.
Building the case for enterprise content management
Prior to implementing Laserfiche, the HIM department had to store many of the hospital's paper records onsite because researchers routinely required access to files. This, of course, uses valuable real estate that can be put to better use caring for patients.
But it wasn't just the clinical staff that needed access to patient records: HIM frequently found itself copying and/or carting charts to various department, leading to processing inefficiencies and delays.
The HIM department tried to solve its paper problem by using a vendor to scan records to the vendor's database. However, outsourcing this important task didn't yield positive results, as the vendor did not always properly index the records, making it difficult for hospital employees to find the desired electronic files.
Rosson knew the HIM department needed to find a better way to manage its records, but cost concerns were a limiting factor, particularly when it came to traditional electronic medical record (EMR) systems.
"THE MED is the 'safety net' hospital for the area," she explains, "so we serve a large number of people who are unable to get care elsewhere."
It was obvious that an EMR solution that cost millions of dollars was out. Rather than scrapping the idea of EMR altogether, though, Rosson decided to take an incremental approach.
Laserfiche becomes the cornerstone for hybrid EMR
Rosson's vision centered around the creation of comprehensive EMRs that include current and historical nursing documentation from Meditech, physician documentation, pathology reports, EKGs and more. "I didn't want employees to have to piece together a complete patient record from a variety of sources," she says. "I wanted everything to be central and secure."
The hospital's CFO encouraged her to investigate an EMR solution from another vendor. "The vendor stated that its current solution didn't have the functionality I needed just yet, but if I could wait a year, the next release would blow me away," Rosson says. "I'm not going to waste a year waiting for something that may or may not happen."
Instead, Doc Imaging, the company that manages THE MED's copiers, proposed Laserfiche Rio. "From the very first demo, I thought Laserfiche was the answer," Rosson says.
In terms of features and functionality, the HIM department was particularly impressed by Laserfiche's:
• Ease of use.
• Robust and flexible storage.
• Advanced search.
• Granular security.
• Affordable price.
As a result, the hospital decided to purchase Laserfiche in December 2009, implementing the system in February 2010.
Breaking ground with hybrid EMR
Although Laserfiche has only been in place a little over six months, THE MED already uses Laserfiche to retrieve ER, inpatient, day surgery and ancillary records. "Any medical record documentation that's not in Meditech gets scanned into Laserfiche," Rosson says.
She adds that the hospital uses Laserfiche Quick Fields, a high-volume capture tool that automatically sorts, organizes and stores documents, to batch scan records into the system.
Pathology reports (and soon EKGs) are "cold fed" directly into Laserfiche, eliminating the need to print and store hard copies.
Each patient's record is organized in the repository by visit number and medical record "Our goal is to 'ghost print' everything from Meditech – including nursing documentation – into Laserfiche so the complete record is available to our physicians through the Laserfiche," the HIM director explains.
According to Rosson, physicians access records through the Web, using Laserfiche's advanced search capabilities to quickly locate the records they need. "Laserfiche is so intuitive that users can pick it up with virtually no training," she says.
In addition to the fast and easy access that Laserfiche affords, Rosson is excited because multiple users can view the same patient information simultaneously. "In my world, the fact that three people can be in separate rooms and all look at the same thing at the same time is huge! Laserfiche is a huge time saver in this regard."
She also notes that THE MED's file room is in the basement, which means HIM employees are constantly running up and down the stairs to retrieve paper files. "With Laserfiche," she says, "our physicians don't have to wait for someone to finish reviewing a chart, or for my department to make them a copy. They just log into Laserfiche and everything is right at their fingertips."
Moving forward, Rosson is also excited that Laserfiche will enable coders to work from home. "The flexibility to telecommute is a big recruiting benefit," she says, "and it frees up more space in the hospital for additional patient care areas."
A solid foundation
Rosson is clear that what her department is doing with Laserfiche is more than mere archival: "We're using Laserfiche to manage active medical records," she says. "This is my EMR."
Although the IT department would like to one day implement an EMR system with a CPOE component, Rosson stresses that for the time being, Laserfiche provides a sound and effective hybrid solution. "From a cost standpoint, from an access standpoint and from a productivity standpoint, Laserfiche is giving us everything we need right now."
Besides, she points out, even if THE MED migrates to a complete EMR solution, "there'll still be paper to manage, it's not like the need for a content management solution is going to go away."