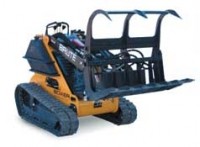 Compact Power, Inc. has a track version of the Boxer Mini-Skid called the Boxer Brute TRX. With a compact footprint of only 44x70 inches, this unit boasts an operating capacity of 900 pounds.

The 9- x 42-inch rubber tracks of the Brute TRX are designed for optimum traction and flotation with minimal compaction. An operating weight of about 2,450 pounds (with operator), distributed over a 331 square inch ground contact area per track, translates to only 3.7 psi of ground pressure and thus, minimal damage to lawns and other planted areas. At the same time, the Brute TRX tracks supply ample traction on otherwise slippery surfaces.

Mini-skids were designed for versatility and Boxer Brute TRX is no exception. This rugged machine is built to handle a full complement of over 50 universal compact utility attachments, including a 36-inch auger and 48-inch trencher. Brute's standard quick attach system enables the user to quickly and easily switch from bucket to forks to auger or other tools for optimum on-the-job availability and bottom line performance.

Like its slightly bigger brother, Boxer, Brute is powered by a fuel-efficient and environmentally-proven Kohler Command Pro 27 – a 27 hp gasoline engine. A two-pump, 3,000 psi hydraulic operating system develops 12.6 gpm of hydraulic flow to run the machine's auxiliary and propulsion systems. The system is designed and valved to combine the power from both systems and redirect it to support the system in need.

And to simplify operations for either the contractor in the field or the busy rental store, Compact Power now offers its ProHauler trailer, designed and equipped to accommodate Brute TRX and its attachments. This tool kit on wheels includes a standard bucket, a leveller that doubles as a carryall, forks, a 36- x 6-inch trencher, an auger head with 9-, 15- and 30-inch auger bits, and a multi-purpose tool that includes a scarifier, lifting jib and ball hitch for towing trailers. On road or off, this single-axle trailer weighing under 6,000 pounds loaded, can be pulled by a half-ton pick-up truck.