Belt system for container transfer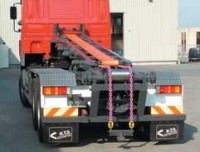 The HTS belt-system is a modern development in the market of container transferring systems. A very low weight and the simple, easy controlling system makes the belt-system popular on long distance transport vehicles.

The container can be automatically connected to the system with a special hook construction, which is connected to the belt. Through the development of a special winch construction with the belt, a low weight was achieved to provide with the most useful load capacity.

By using a camera system in the back of the truck, the total connection and handling from the container is very easy to control, achieving good security and safety. This equipment saves time and makes it easy to pick up a container.

The low weight as well as the minimum height of the belt system above the chassis makes it possible to transport the biggest containers. The unit has no overhang to interfere with the dumping of any material.