Crane service body offers bed space and capacity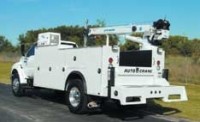 The Titan 60-14, with 14 feet of bed space and the capacity to support up to a 60,000 foot-pound crane, combines the strength for which Auto Crane bodies have become famous with the curb appeal to go with today's sleek chassis designs. Like the original Titan 60 crane body, the Titan 60-14 utilizes a patented one-piece side pack constructed of 10-gauge galvanneal and a unique internal hinge design, providing unparalleled strength and corrosion resistance.

Additionally, the new Titan 60-14 comes standard with LED lights, advanced T-handle door latches, and a new slammable tailgate that can be operated with one hand. Radius corners and double-panel doors also add to the tremendous strength of the Titan crane body.

The new Titan 60-14 crane service body was designed to match up perfectly with the recently introduced 10,006H telescoping crane. Together, they create the a reliable field service package available with up to five tons of lifting capacity.