Patient transport units can help save the life of an injured worker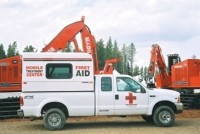 Horizon Fiberglass Products, from Delta, B.C., has developed two styles of ruggedly built fibreglass first-aid units with rollover protection which comply with Transport Canada Canadian Motor Vehicle Safety Standards. The units install easily into the bed of any full size North American pick-up truck with a simple frame mount attachment. "Safety in the workplace has never been a higher priority," said Jeff Engelland, President. "Our first-aid units raise the bar significantly. As sites get ever more remote, workers are confident that if an accident happens help is immediately available. At the end of the day, everyone wants to go home to family and friends."Major benefits include: rollover protection (Canadian Motor Vehicle Safety Standard "CMVSS" & Transport Canada Compliant); cost effective solution to quality emergency care and transport needs; transferability between trucks as it will slide into any full-size pickup truck; industrial-fibreglass construction designed for off road 4x4 use; space for two injured patients and an attendant; and light weight at only 1,175 pounds (534 kg).

For variables such as crew size and remote locations, there are two styles of first aid, patient transport units: Emergency Transport Vehicle (ETV) with single patient and dual patient capacity; and Mobile Treatment Centre (MTC) with dual patient capacity and is required for the larger crews at more distant work locations.
Company info
Tufport™
3551 River Road West
Delta, BC
CA, V4K 3N2

Read more