New hook design makes lanyard easy to tie back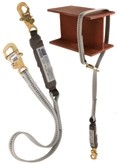 The new WrapBax 2 lanyard is specifically designed for tie-back use. The lanyard eliminates the need for anchor straps.

The WrapBax 2 lanyard features the same industry-preferred, easy-to-use hook action that is standard on all DBI-SALA patented snap hooks. It can be operated with the use of only one hand, eliminating the pinching of fingers or fumbling of latches even while wearing gloves. The unique design features the rigorous 5,000-pound strength requirements, making it ideal for tie-back use. It is lightweight and incorporates an angled head on the hook for easy installation onto webbing. With the addition of heavy-duty abrasion resistant 13,000-pound tensile strength webbing, the WrapBax 2 will stand up to even the toughest jobs.

Traditional hook designs are not intended for tying back, though many workers mistakenly use their standard hooks for this purpose. When standard hooks are utilized this way, the stress and weight of a fall are placed on the gate, which is not intended for load-bearing. The gate may fall open and injure the worker. The new WrapBax 2 hook provides 5,000 pound gate protection and offers a unique look easily differentiated from standard hooks.