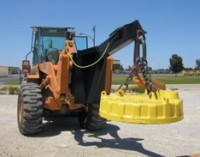 Company info
401 Martin Dr. -- P.O. Box 85
Goodfield, IL 61742,
US,

Read more
The PWCE Jib with Magnet has replaced a 1950s era crane in unloading gondola cars, as well as semi trucks. Using a Case 621C Wheel Loader, PWCE was able to build an eight-foot jib attachment for the bucket end. A large 36-inch magnet was then attached to the jib. Unlike the traditional crane, the PWCE jib has the versatility to move all over the yard. It also has the mobility to reach inside the gondola cars.