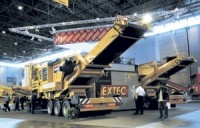 Extec's recently launched three machines: the E C12+ Tracked Jaw Crusher, the I-C13 Tracked Impact Crusher, and the X44-SBS Tracked Cone Crusher.

The C12+ has been designed to increase production, reduce operating costs and produce a fine product. The C12+ is suitable for crushing virtually any material it encounters and Extec has been staggered by the response from the market, with advanced orders from Intermat far exceeding expectations.

The I-C13 and the X44-SBS encompass many of the features of the C12+, but with the even more powerful Caterpillar C13 Acert engine.
Company info