Grinders with sensitive infeed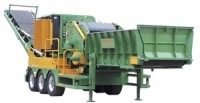 ProGrind H-3060 horizontal grinders include a Caterpillar C-15, 565-hp diesel engine, and a large-diameter infeed roll that is sensitive enough to permit grass clippings, brush, limbs, pallets, slabs, logs and stumps to be fed at variable speeds for continuous rather than batch feeding.

This grinder is engineered with several cutting surfaces at varying depths, which virtually eliminates the frequent jamming characteristic of more conventional type grinders. Rotating downward, the double cut, 30-inch-diameter by 60-inch-long hammermill momentarily wedges the incoming heads and the cutter bar, limiting the depth of cut.
Company info