Vertical hoist available in various configurations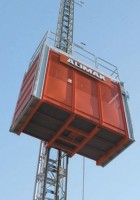 Alimak Hek's Scando 650 for both construction and permanent access offers a large number of possible configurations with different doors and gates, speeds and payload capacities.

A fully modular vertical transport solution, the Alimak Scando 650 hoist offers a high level of flexibility, as it is available in various configurations including different doors and gates, drive units (a two-motor DOL and two- or three-motor FC), speeds (up to 65 m/min) and payload capacities.

The three available motors, which drive the system through a high efficiency gearbox, provide more hoist power while using as much as 40 percent less power than previous Scando models. Available in single- or twin-car configurations, the Scando 650 offers payloads of 1,500 to 3,200 kg/car and has a standard maximum lifting height of 400 metres.