Artic hauls up to 31.5 yards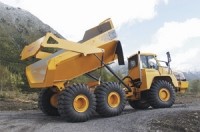 The MT41 is the latest model to join the PlusOne Concept of Moxy trucks, joining the MT26, MT31 and the MT36 II. It is equipped with a Scania DC 12, watercooled, unit injected diesel engine with turbo charger and air-to-air intercooler.

The MT41 is also equipped with a dual-circuit braking system acting on all six wheels and has separate brake cooling for front axle. It has hydraulically operated brakes with oil-cooled wet multiple discs all around. The MT41 is also fitted with an exhaust brake and hydraulic retarder. It has full-time, 6 x 6 drive with two traverse differentials and one longitudinal. The front and rear axle, traverse differentials are limited-slip with 45 percent locking ratio.

Body capacity is 29.7 cubic yards heaped and 31.5 cubic yards with the optional top tailgate.