Dewatering pumps reduce component wear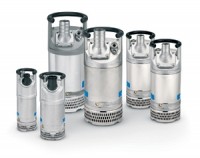 ITT Flygt's new 2600 dewatering pumps series has been designed to reduce component wear and the need for maintenance in order to maximize working time and profitability. Replacing the Bibo range, the 2600 series was created to meet the stringent performance and economy of today's industry. The six pumps in the range cover most dewatering applications. These pumps have been completely re-engineered with innovative hydraulics, fewer components and practical ergonomic design.

The patented Dura-Spin hydraulic system and newly designed impeller, significantly improve wear resistance. The impeller can be easily adjusted for optimum performance with just one trimming screw, which results in lower cost of ownership.