Saw and pipe trolley cuts hard pipe square and fast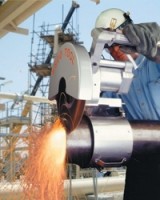 An air-powered saw and pipe trolley that cut hard pipe more accurately and faster than using hand grinders, reciprocating hack saws, and clamshell tools are available from Esco Tool.

The Esco APS-438 Air Powered Saw and WrapTrack pipe trolley provide a fast method for cutting hard pipe from six inches to 60 inches in diameter by four-inch wall; especially in power plant construction applications where speed and accuracy are critical. Featuring a three-hp pneumatic motor, the saw comes with fibreglass reinforced abrasive or diamond tipped carbide blades and the pipe trolley simply clamps around the pipe circumference for rigidly mounting the saw.

Equipped with a bracket that mounts onto the WrapTrack pipe trolley using four "V" grooved stainless steel roll guides, the Esco APS-438 Air Powered Saw is easy to setup and produces perfectly square cuts with ±1/8-inch accuracy. Blades are available from eight inches to 12 inches O.D. and the saw is capable of cutting a 10-inch Sch. 160 pipe in under 10 minutes without leaving a heat affected zone.